In the wake of the Covid-19 pandemic, face masks have become an essential accessory for everyone. As companies strive to meet the demand for advanced face masks, one product stands out as truly revolutionary: Xupermask.
With its cutting-edge features and innovative design, Xupermask has caught the attention of people across the United States. In this review, we'll delve into the details of this game-changing face mask and explore its potential benefits.
The Birth of Xupermask: A Joint Venture
Xupermask is the brainchild of Jose Fernandez, who conceived the idea during a return trip from London in March 2020. Fueled by a desire to create a face mask that not only provided protection from the flu virus but also integrated features like a phone and headphones, Fernandez partnered with William, a renowned expert in the field of advanced face mask technology. Together, they formed a joint venture with Honeywell, a leading name in innovative solutions, to bring Xupermask to the market.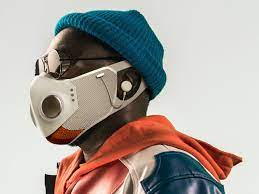 Unparalleled Features for a New Era
Xupermask distinguishes itself from other face masks with its unique and impressive features. The mask incorporates a HEPA filtration system, ensuring high-quality air purification. This means users can confidently travel on an aircraft or visit crowded places while keeping themselves protected.
Furthermore, the mask boasts a state-of-the-art noise-cancelling audio system, allowing users to enjoy their favorite tunes or have crystal-clear phone conversations without any disruptions.
The mask's Bluetooth 5.0 connectivity and built-in microphone make it a convenient choice for those who need to stay connected while on the go. Whether you're taking an important call or listening to your favorite podcast, Xupermask ensures seamless wireless connectivity. To enhance airflow and comfort, the mask also features three dual-speed fans, providing a refreshing experience even during extended periods of wear.
Additionally, Xupermask is a true fashion statement with its LED day glow face mask and built-in set of earbuds. The mask not only offers unparalleled functionality but also catches the eye with its vibrant and futuristic design. Its LED day glow light adds a touch of flair, making you stand out in a crowd.
Comfort and Customization for All
Recognizing the importance of a comfortable fit, the developers of Xupermask have designed it to easily accommodate any head shape. The mask comes with a silicone face seal and an elastic strap, ensuring a secure and snug fit for all users.
It also includes a battery that can be conveniently charged before use. Once fully charged, the mask can operate for up to seven hours, offering uninterrupted protection throughout the day. What sets Xupermask apart is its ability to be charged even while wearing it, allowing users to stay powered up wherever they are.
Style Meets Practicality
Xupermask is available in two color schemes: white, grey, orange, and black and orange. This variety allows users to choose a style that suits their preferences and personality.
The mask comes with a carrying case, providing a safe and convenient storage solution when it's not in use. In addition to the HEPA filter, the set includes a charging cable and earplugs, ensuring that users have everything they need for a seamless experience.
Xupermask even offers a 3-month supply, so you can rest assured knowing you have a steady stock of filters to keep your mask at its best.
Is Xupermask the Ultimate Solution?
In a time when face masks are a necessity, William's Xupermask has undoubtedly revolutionized the concept of protection. However, before deciding whether to invest in this advanced mask, it's important to consider real-world reviews from users who have tried it. While the features and design are undeniably impressive, it's crucial to gauge how well the mask performs in terms of comfort, durability, and overall efficacy.
Are you considering purchasing Xupermask? How helpful do you think this advanced mask could be in your day-to-day life? We would love to hear your thoughts and experiences with Xupermask in the comments below.
Together, let's explore the potential of this technological marvel and discover how it can make a difference in the way we protect ourselves and others during these challenging times.