The world has changed, and so has the way we look after ourselves. Face masks have become our armor in the fight against the Covid-19 pandemic. Among the many options out there, one stands out like a shining star: Xupermask. It's not just a mask – it's a game-changer.
What is Xupermask?
Xupermask is not your ordinary face mask. It's like a superhero mask for everyday people. Imagine a mask that doesn't just cover your face but also does much more. It's the brainchild of Jose Fernandez, who thought of the idea during a trip from London in March 2020. He teamed up with face mask expert William and got support from Honeywell, a big name in smart solutions. And that's how Xupermask was born.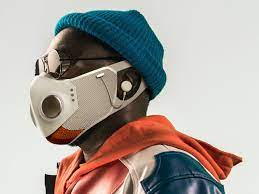 How Does Xupermask Work?
Xupermask is like a personal shield that goes beyond just blocking germs. It's like having a bodyguard for your face. One cool thing is the HEPA filtration system. This fancy term means the mask cleans the air you breathe. So, when you're in crowded places or on a plane, you can relax a bit – the air around you is getting cleaned up by your mask!
But wait, there's more! Xupermask is not just about clean air. It's also about the things you love. It's got a top-notch audio system that cancels out noise. Imagine listening to your favorite songs or chatting on the phone without any outside noise bothering you. And yes, it's got Bluetooth too. So, if you're on the move, you won't miss a beat.
How to Use Xupermask
Using Xupermask is a breeze. You just put it on like any other mask. Adjust the strap to fit your head comfortably. And there you go – you're now wearing a mask from the future! Oh, don't forget to charge it before stepping out. A fully charged Xupermask can stay with you for around seven hours. And guess what? You can even charge it while wearing it. It's like charging your phone while using it – so cool!
Does Xupermask Work?
Now, you might be wondering, "Does this thing really work?" The answer is a big yes. Xupermask is not just a fancy gadget. It's a well-thought-out mask designed to protect you and keep you connected. The HEPA filter is there to make sure the air you breathe is clean. The noise-cancelling feature is like your personal music bubble. And the Bluetooth keeps you in touch with the world.
What Customers Are Saying
But hey, don't just take my word for it. Let's see what people who've used Xupermask are saying. Many customers love the futuristic design and how comfortable it is to wear. Some say it's a real game-changer, especially during long flights. And those who love music can't stop raving about the audio quality.
Pros of Xupermask
There's a lot to love about Xupermask:
Clean Air: The HEPA filter makes sure the air you breathe is top-notch.

Noise-Cancelling Magic: Say goodbye to annoying background noise. Xupermask keeps it out.

Stay Connected: With Bluetooth and a built-in microphone, staying in touch is easy.

Cool Design: LED day glow and futuristic design? You're turning heads for sure.

Comfortable Fit: Thanks to the silicone seal and adjustable strap, it fits almost everyone.

Long Battery Life: Up to seven hours of use on a single charge means you're covered all day.
Cons of Xupermask
Of course, like anything else, there are a few things to consider:
Price: Xupermask isn't the cheapest mask out there. Quality comes with a price.

Learning Curve: Some users found it took a little time to get used to all the features.
Is Xupermask a Scam or Legit?
Now, you might be wondering if Xupermask is too good to be true. The answer is simple: it's legit. It's not a scam. Xupermask comes from the minds of experts who wanted to create something awesome for people like you. It's backed by Honeywell, a company known for making smart and reliable products.
Is Xupermask Worth It?
So, is Xupermask worth your hard-earned money? Here's the deal: if you're looking for more than just a regular mask, if you want clean air and your own private music space, if you need to stay connected while on the move – then yes, it's worth it.
In a world where face masks are a must, Xupermask goes beyond the basics. It's not just a mask; it's a statement, a shield, and a companion. With Xupermask, you're not just protecting yourself – you're stepping into the future of face protection.
Conclusion
Xupermask is not your average mask. It's a smart, futuristic shield that offers clean air, noise cancellation, and seamless connectivity. It's designed for comfort and style. And it's definitely not a scam – it's a legit creation by experts who care about your safety and experience.
So, if you're ready to embrace the future of face masks, if you're looking for more than just ordinary, if you want protection and style rolled into one – then Xupermask is waiting for you. Get ready to face the world with confidence, comfort, and a touch of innovation.