If you've seen ads for PetSwag™ on social media and are wondering if it's a trustworthy brand, you've come to the right place. I've gone through loads of customer reviews to give you the scoop on PetSwag™ and their no-pull dog harness.
And don't worry, I'm not affiliated with PetSwag™, so you can trust that my review is real. Let's dive in!
What is PetSwag™?
With its array of colors, adjustable straps, and heavy padding, this harness promises a custom fit that's easy on your dog's skin.
But here's the thing: according to users, PetSwag™ is just selling rebranded Chinese knock-offs that have been around for a while under different names. In fact, a quick search on Amazon shows you can find similar-looking harnesses under multiple brand names. It's not uncommon for mass-produced items from China (like earbuds or cables) to have different names, but it's worth noting.
And the reviews aren't all positive: one customer reported that her harness broke after a month, but PetSwag™ wouldn't do anything about it. So, while the harness may look good on paper, it's worth taking these reports into consideration before making a purchase.
PetSwag Specifications
The adjustable neck and chest straps make it easy to get the perfect fit. The side release buckle is super sturdy and won't break, making it a breeze to take on and off.
Plus, the reflective straps will keep your pup safe and visible during those nighttime walks. And with the stainless steel D-ring, you can attach your leash with confidence. The fabric material is tear-resistant and the straps won't stretch out of shape.
Features & Benefits of PetSwag™ Dog Harness
Stay in control and keep your furry friend comfortable with this top-notch dog vest harness. With an adjustable chest strap and snap-on buckle, you can ensure a uniform distribution of pulling pressure, preventing choking and discomfort. The harness is designed to fit your dog's growth, so you won't have to constantly change it.
Take your dog on adventures with ease, thanks to the rugged nylon handle. Get closer to your dog and enhance your distance at the same time. This harness is perfect for service dogs, making controlling them a breeze.
Keep your dog safe and visible, even in the dark, with reflective straps. Walk, run, hike, trail, hunt, or simply enjoy the outdoors with your dog, connected to the D-ring for added safety in crowded areas. So, gear up and enjoy effortless control with this high-end dog vest harness.
Things To Know Before You Buy A Dog Harness
Whether your pup pulls on their leash, has mobility issues, or gets easily distracted, a harness can help.
Here are a few things to keep in mind before making your purchase:
Safety and durability: Can you adjust the fit? Is it built to last?

Comfort: Is it comfortable for your dog to wear? Does it avoid putting pressure on their neck? Is it adjustable?

Cost: It's worth investing in a good harness, but don't break the bank. Look for a good option at a reasonable price.

Style: Sure, your pup may not care what they look like, but why not choose something stylish and spiffy?
With these factors in mind, you're sure to find the perfect harness for your furry best friend!
Is PetSwag™ a Scam?
PetSwag™ isn't necessarily a scam, but things aren't looking great for them. With only 1.3 stars on Trustpilot, there's definitely some cause for concern.
From what we can gather, there's not much info on the brand. Their website is pretty sparse on details, and there's no mention of who's behind the company or where it's actually located. Some people have said that PetSwag™ is just a cheap knock-off made in China.
According to one customer, PetSwag™ has fake addresses listed in both New York and California, but it's actually based in China. And when she tried to dispute a purchase with PayPal, PetSwag™ told her she had to drop the claim if she wanted a refund.
So, while PetSwag™ may not be a full-blown scam, it's definitely worth being cautious when dealing with them.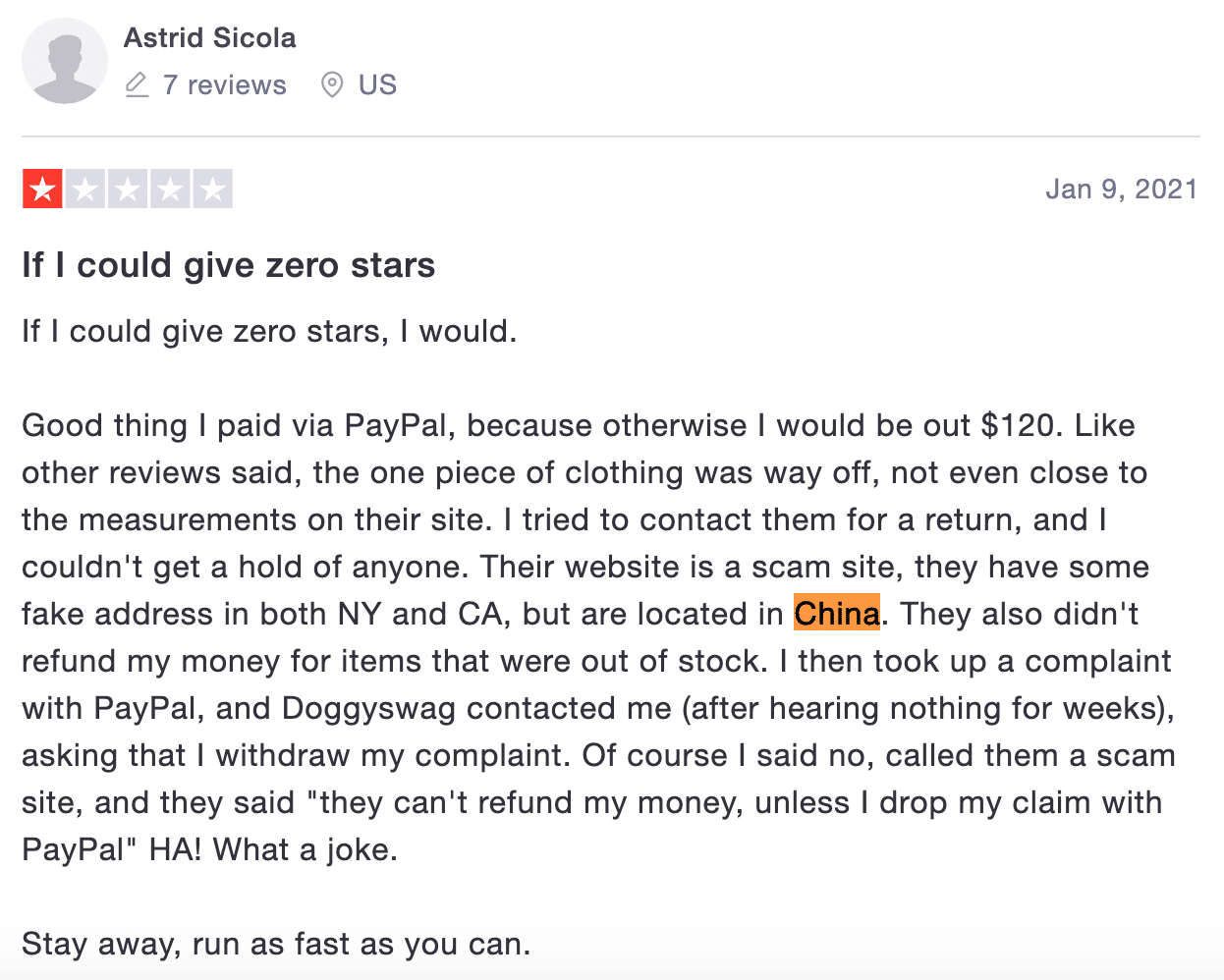 PetSwag™ seems to have popped up out of nowhere, so be mindful of their refund policy. According to their policy, you only have 14 days after receiving the item to return it and get a refund, and it must be in the same condition as when you got it.
So you can't even try it on your pup first to see if it fits? And what if you find out it doesn't work for your furry friend?
One customer tried to return a dog harness and had a rough time with the process. PetSwag™ never gave her a return address or shipping info.
Customer and User Reviews
Looks like PetSwag™ has been getting some heat on Trustpilot. A customer complained that they've been trying to return a dog harness that keeps slipping off their pup, but haven't heard back from the company on how to do it. Not cool! Hopefully, PetSwag™ can step up their customer service game and get back to this unhappy customer soon.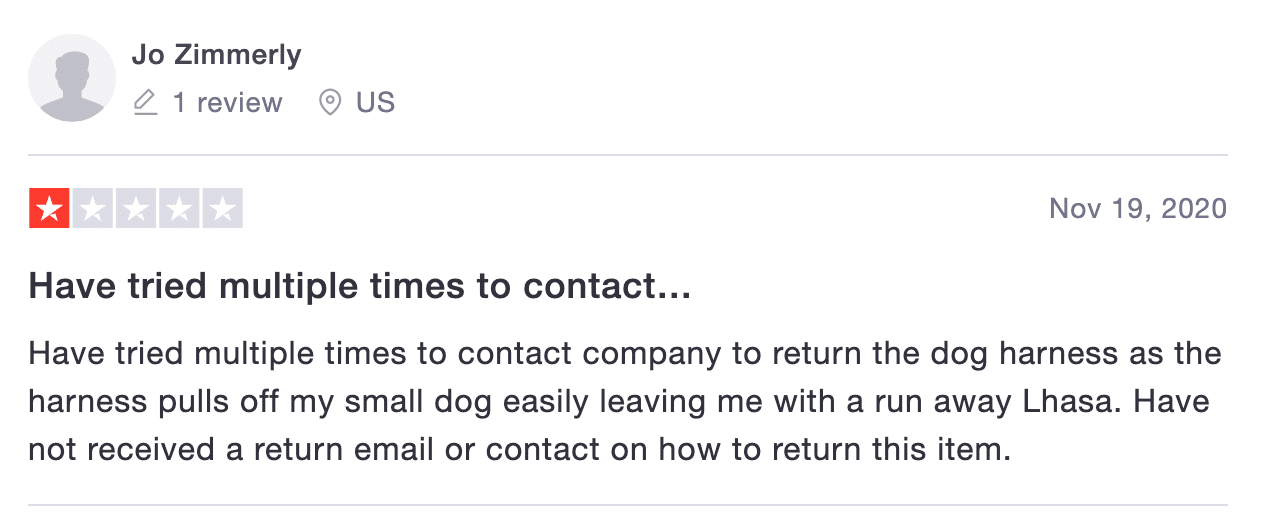 Other customers said PetSwag™ and they have received nothing from PetSwag™ after paying for the overpriced dog harnesses.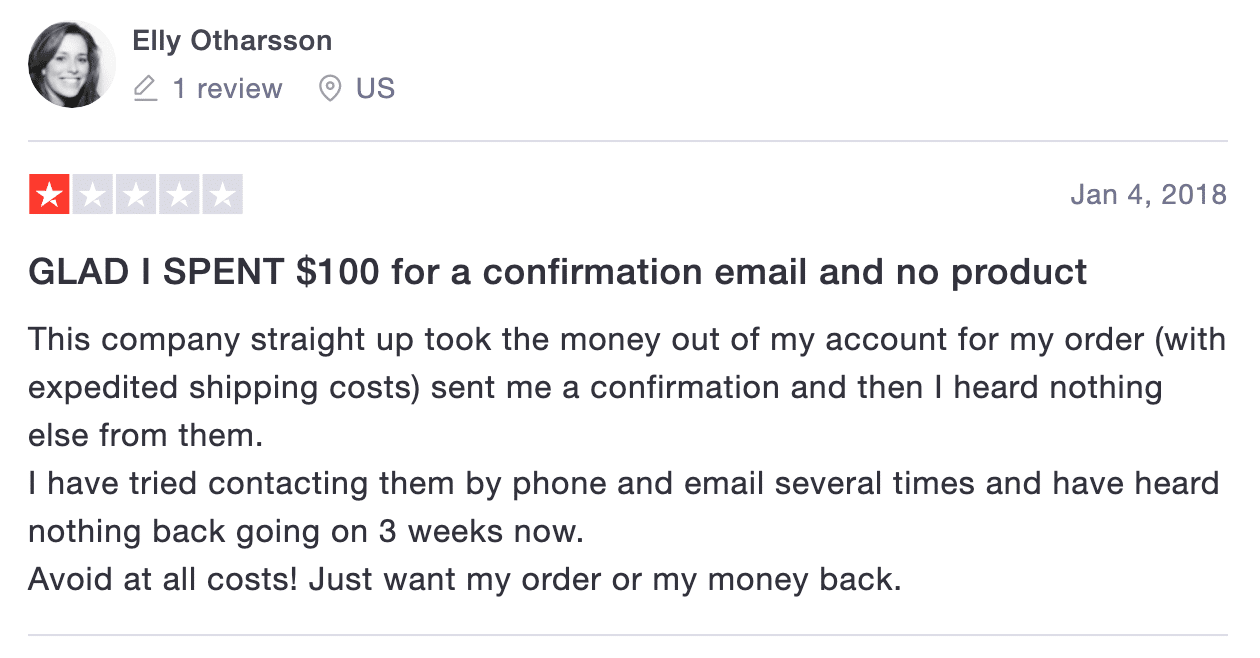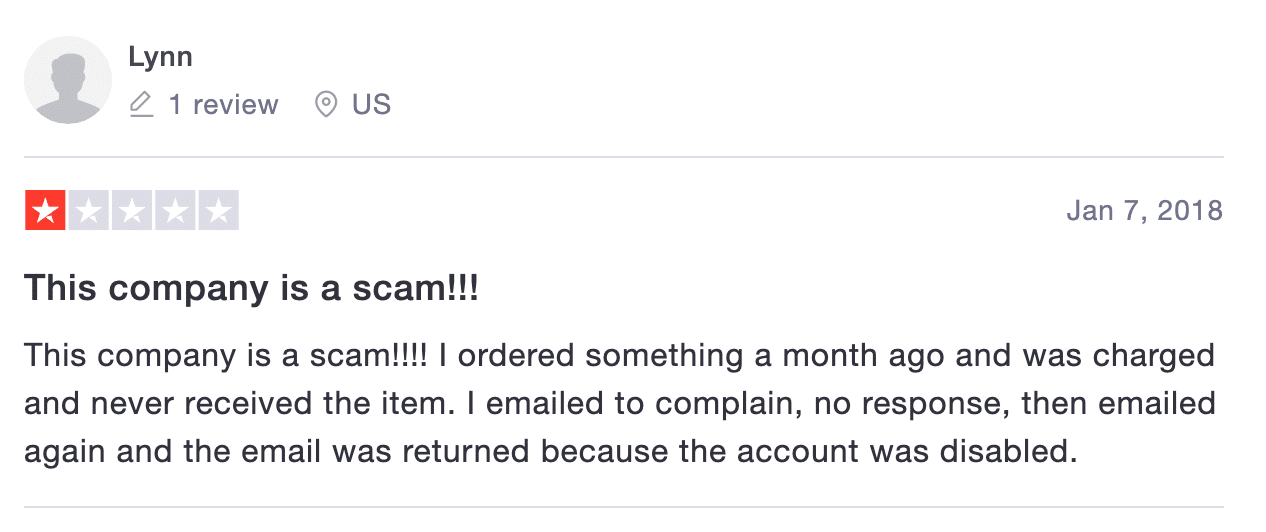 Most people seem to think it's a scam and are warning against buying anything from them. But, hey, don't just take their word for it. If you still have faith in the brand, give it a shot and see for yourself.
PetSwag™ Review: Final Verdict
So, I wouldn't exactly give PetSwag™ a ringing endorsement, but it does have some useful features. It's a pretty new brand though, so there's not a ton of info out there about it. As far as legitimacy goes, it looks like it's probably on the up and up. But, you know, there's always some risk involved with these things.
One issue I've come across is that it seems like a lot of customers are having trouble actually getting in touch with the company using the contact info provided on the PetSwag™ website. I tried calling the number last week and no one answered. Maybe they were out on vacation or something.
If you've had any experience with PetSwag™ or have more info about the brand, feel free to drop a comment below!