In today's busy world, finding time for a proper workout can be a challenge. That's why I've been on the hunt for an effective and convenient way to build muscle without hitting the gym. During my research, I came across WeightWorld Electric Muscle Stimulator, an EMS trainer that claims to tighten and sculpt muscles using cutting-edge technology.
In this review, I'll dive deep into the features, benefits, and potential drawbacks of this product to help you decide if it's worth your hard-earned money. But before we begin, let me assure you that I have no affiliation with WeightWorld, so you can trust that my review is genuine and unbiased. So, let's get started!
Unleash the Power of EMS
The WeightWorld Electric Muscle Stimulator harnesses the power of EMS (Electric Muscle Stimulation) technology to stimulate muscle movement and promote muscle growth.
By delivering precise electrical pulses to your muscles, this device mimics the signals sent by your brain, causing your muscles to contract and relax. It's like getting a workout without actually working out!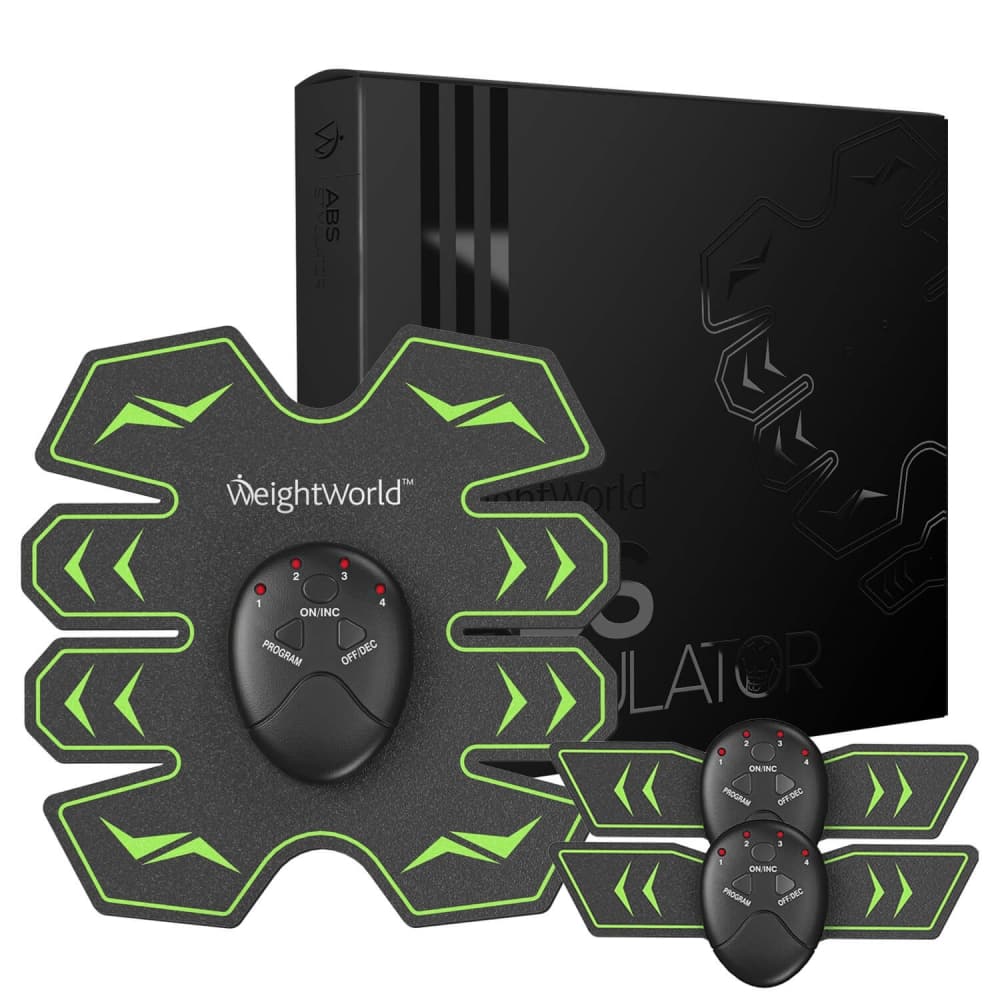 Convenience at Your Fingertips
One of the biggest advantages of the WeightWorld Electric Muscle Stimulator is its convenience. This wireless, thin, and lightweight device can be discreetly worn under your clothes, allowing you to strengthen and tone your muscles while going about your daily activities. Whether you're watching Netflix, doing household chores, or even walking your pets, you can use WeightWorld anywhere and anytime.
Easy-to-Follow Steps
Using the WeightWorld Electric Muscle Stimulator is a breeze. Here are the simple steps to get started:
Open the battery cover and insert 2pcs batteries.

Place the device on the gel pad using the snap-on button.

Position the electrode pad on your body.

Push the ON/INC button to start and select the desired mode using the "PROGRAM" button. There are 5 programmed exercise routines to choose from.

Gradually increase the intensity using the ON/INC button until you feel a comfortable muscle contraction. The device offers 10 intensity levels for you to customize your workout.

To turn off the device, press the OFF/DEC button until the LED lights go off.
The Science Behind EMS
EMS training has been scientifically proven to be effective in stimulating muscle growth. Originally used in physiotherapy, EMS utilizes low-frequency electrical impulses to activate muscles that are often neglected during traditional workouts.
Not only does it aid in weight loss and reducing body fat, but it also helps fight cellulite and tighten the skin. Leading athletes like Cristiano Ronaldo, Usain Bolt, and boxer David Haye have all incorporated EMS training into their routines to build strong and toned bodies.
Key Features and Benefits
Let's take a closer look at the key features and benefits of the WeightWorld Electric Muscle Stimulator:
Electric Muscle Stimulation: This device targets and stimulates your abs and gluteal muscles, helping you achieve a sculpted body shape.

Exercise Anytime: With WeightWorld, you have the flexibility to train your muscles while indulging in activities like watching TV, doing chores, or even cooking.

Cost-Effective: Say goodbye to expensive gym subscriptions! WeightWorld allows you to save time and money while still achieving incredible results.

Simple Solution: Just 15-20 minutes of use twice a day can lead to noticeable improvements within a month.

Easy to Use: The push-button operation with 6 modes and 10 intensity levels makes it intuitive to adjust the stimulation intensity, allowing you to carry on with your daily tasks hassle-free.

Skin-Friendly and Pain-Free: The WeightWorld Electric Muscle Stimulator is designed to be 100% skin-friendly and pain-free.
Scientific Evidence and Tips
Research has shown that EMS training using the WeightWorld Electric Muscle Stimulator can lead to significant reductions in waist circumference, abdominal obesity, subcutaneous fat mass, and body fat percentage.
To maximize results, it's recommended to start with lower intensity levels and gradually increase as you get accustomed to the device. While using a gel pad is not mandatory, it can help keep the device firmly against your skin. It's advisable to replace the gel pad after every 20-30 uses to maintain optimal performance. The device operates on AAA batteries and is FDA-certified, ensuring safe use.
Personal Experience and Better Alternatives
While the WeightWorld Electric Muscle Stimulator certainly has its merits, I found a better alternative on Amazon that offers similar or even better results.
Not only is it reasonably priced, but it also provides excellent customer service and quick delivery. Personally, I prefer the convenience and reliability of purchasing from reputable marketplaces like Amazon, which offer a more reasonable refund policy.
Final Thoughts
In conclusion, the WeightWorld Electric Muscle Stimulator offers a convenient and effective solution for muscle building and toning. Its portable design and ease of use make it a viable option for those with busy lifestyles.
However, it's important to note that WeightWorld's refund policy can be discretionary, which may not be ideal for some customers. If you prefer a more reliable alternative, I recommend exploring similar products on Amazon, where you can find competitive prices, excellent customer service, and reliable refund options.
Remember, patience is key when it comes to bodybuilding, and incorporating a healthy diet alongside your workout routine can enhance your results. So, why wait? Start sculpting your dream body with the WeightWorld Electric Muscle Stimulator or explore better alternatives for a more fulfilling fitness journey!