[Note: this review is written by a customer of Neosonic Hearing Aids and edited by us.]
As someone who has personally experienced the challenges of hearing loss, finding an affordable and reliable hearing aid was a top priority for me.
After extensive research and consideration, I came across Neosonic, a company that offers high-quality hearing aids at an incredibly affordable price.
In this review, I will share my personal experience and impressions of Neosonic's hearing aids, highlighting their unique features, pricing, customer support, and overall user experience.
Affordable Hearing Aids with a Free Trial
Neosonic's commitment to affordability immediately caught my attention. Their pricing structure is highly competitive, making hearing aids accessible to individuals like me who are on a budget.
Moreover, their confidence in the quality of their products is reflected in their generous 45-day free trial offer. This allowed me to try out the Neosonic hearing aids risk-free and determine if they truly met my needs.
The fact that I could return the hearing aids within 45 days for a full refund if they didn't work for me provided me with peace of mind and confidence in my purchase.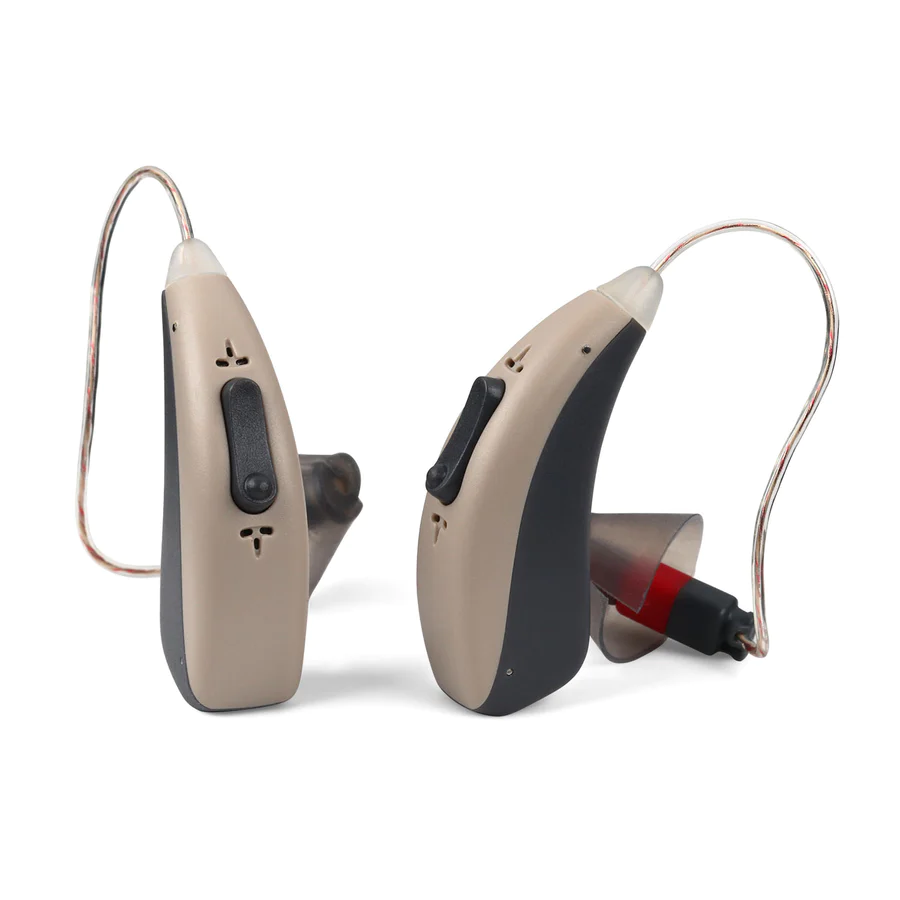 Rechargeable Batteries for Convenience
One of the aspects that impressed me the most about Neosonic's hearing aids is their use of rechargeable batteries.
Having previously dealt with the hassle of constantly changing batteries, I appreciated the convenience and cost-effectiveness of Neosonic's rechargeable lithium-ion batteries. These batteries offer an impressive 20 hours of usage per charge, ensuring that my hearing aids would last throughout the day without the fear of sudden battery failure. Neosonic also provided a charging station with my purchase, making it easy for me to recharge my hearing aids overnight.
Variety of Models and Programs
Neosonic offers a range of hearing aid models to cater to different types and levels of hearing loss. After consulting with their helpful customer support team, I decided to go with their MX model, which is their higher-end behind-the-ear (BTE) hearing aid. Priced at $548 per pair, the MX provided me with the enhanced sound quality I was looking for.
The MX features an upgraded Intricon processor and dual microphones that effectively cancel out background noise, ensuring clear and crisp sound even in noisy environments. This was particularly important for me as I frequently find myself in busy settings where background noise can be overwhelming.
The MX's maximum volume of 50 dB was ideal for my moderate to severe hearing loss, providing me with the amplification I needed to fully enjoy conversations and everyday sounds.
Customer Support and Satisfaction Guarantee
Throughout my experience with Neosonic, their customer support team was incredibly responsive and helpful. Whether I had questions about the different models or needed assistance with the ordering process, I always received prompt and friendly support. This level of customer service gave me confidence in the company and their commitment to customer satisfaction.
Neosonic's satisfaction guarantee further solidified my decision to purchase from them. Knowing that I had 45 days to try out the hearing aids and return them for a full refund if they didn't meet my expectations was reassuring. It allowed me to take the time to fully adjust to the new devices and evaluate their performance in various situations. Thankfully, the MX exceeded my expectations, and I did not need to utilize the return option.
Conclusion
As someone who has experienced the impact of hearing loss firsthand, finding an affordable and reliable hearing aid was crucial to improving my quality of life.
Neosonic's hearing aids provided me with a cost-effective solution without compromising on quality. The convenience of their rechargeable batteries, the exceptional sound quality of the MX model, and the overall support and satisfaction guarantee they offered made my experience with Neosonic truly positive.
If you are on a budget and in search of affordable, high-quality hearing aids, I highly recommend considering Neosonic. Their commitment to customer satisfaction, affordability, and reliable performance sets them apart in the market. I am grateful for the positive impact Neosonic's hearing aids have had on my daily life, allowing me to fully engage in conversations and enjoy the sounds of the world around me once again.