Remember those frustrating nights spent navigating The Legend of Zelda: Ocarina of Time's treacherous water temple, with the incessant nagging of your fairy companion Navi? Well, as we grow older, our hearing abilities tend to decline, leaving us unable to catch Navi's sweet whispers of advice. But fear not! Audicus is here to save the day.
In this Audicus review, we'll dive into the company's background, their commitment to excellence, their top-selling products, and more.
The Story Behind Audicus
Audicus recognized the emerging challenges in the hearing aid market and built its business model around the shifting tides.
In 2012, Patrick Freuler founded the company in the bustling city of New York. Audicus' approach revolves around convenience and accountability.
By harnessing the power of the internet, they've made it incredibly easy for customers to test their hearing and find the perfect hearing aids without the hassle of multiple doctors' appointments and paperwork.
With a team of expert audiologists, technicians, and customer service representatives, Audicus aims to deliver a seamless experience for their valued customers.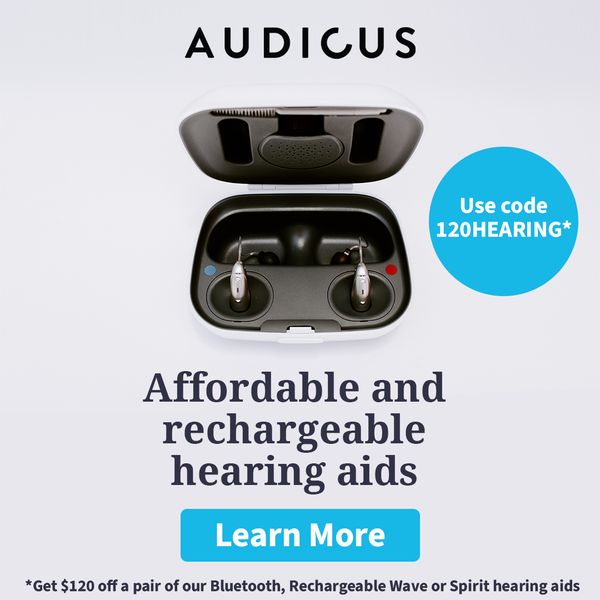 What Sets Audicus Apart
Now, let's delve into what makes Audicus stand out from the competition:
Affordable Hearing Aids

: Audicus focuses on providing high-quality hearing aids that won't break the bank. They believe that everyone deserves access to the joy of hearing.

Generous Membership Plan

: By joining the Audicus membership program, customers gain access to personalized hearing aids, insurance coverage, and the incredible perk of replacing their hearing aids every 18 months for free. It's like having an upgrade party for your ears!

Convenient Website Purchases

: Say goodbye to additional costs and unnecessary middlemen. Audicus allows customers to purchase their products directly through their website, making the entire process smooth and cost-effective.

Comprehensive Online Hearing Test

: Audicus offers an online hearing test that enables you to determine the type of hearing aids you need without leaving the comfort of your home. It's time to embrace the convenience of the digital age!

Financing Options

: To make their hearing aids even more accessible, Audicus provides financing options through trusted partners like Affirm and Care Credit. You can now embark on your journey to better hearing without worrying about financial constraints.

Speedy Shipping

: For customers in the United States, Audicus offers overnight and expedited shipping options, ensuring you receive your hearing aids as swiftly as possible. No more waiting around to hear the world again!
A Symphony of Sound Solutions
Audicus offers a diverse range of hearing aids tailored to different levels of hearing loss. Here are some of their best-selling products:
Audicus Dia II

: These inconspicuous behind-the-ear devices are designed to eliminate ambient noise and enhance conversations. Perfect for those with moderate levels of hearing loss.

Audicus Aura:

A tiny, in-ear hearing aid available in a variety of colors. It covers the entire spectrum of hearing loss, catering to mild issues as well as severe auditory impairments.

Audicus Clara

: Sleek and adaptable, the Audicus Clara is the brand's most popular product. It helps individuals with varying degrees of hearing loss reconnect with the world around them.

Audicus Wave

: Combining the functionality of hearing aids and earbuds into one device, the Audicus Wave offers Bluetooth connectivity and rechargeable batteries. It's a convenient choice for individuals with all severities of hearing loss.

Audicus Spirit

: The Audicus Spirit combines all the fantastic features of Audicus' product line, including Bluetooth connectivity and rechargeable batteries. It also provides a direct contact line to audiologists, ensuring prompt assistance when needed.
The Voice of the People
A brand's reputation is often best reflected in the words of its customers. Audicus has received overwhelming praise from its satisfied clients.
With an impressive overall score of 4.7 out of 5 stars from over 6,000 customer reviews on their website, it's clear that Audicus has left a positive impression. Customers rave about the ease of acquiring hearing aids through Audicus, their exceptional customer service, user-friendly products, and affordable pricing. It's music to our ears!
Accessibility for All
Audicus aims to make hearing aids accessible to a wide range of customers. They offer various discounts, financing options, and a membership program to ensure their products are within reach.
You can finance your hearing aids through trusted partners like Affirm and Care Credit. Audicus ships its products to both the United States and Canada, with free shipping available for customers in the US. Plus, if you're not completely satisfied, you have up to 45 days to return your Audicus hearing aids for a refund.
Customer Support That Harmonizes
Should you ever need assistance, contacting Audicus is a breeze. Their dedicated customer service team is available seven days a week from 9:00 am to 7:00 pm ET. You can reach them via email or phone, knowing that a friendly voice is just a call or message away.
The Final Note
In conclusion, we recommend this brand if you're in the market for hearing aids and desire a hassle-free experience. Audicus stands out for its affordable pricing, exceptional customer service, and a comprehensive range of top-quality products and services.
With a solid reputation backed by positive customer reviews, Audicus has firmly established itself as a reliable choice in the hearing aid market.
Whether you choose the Audicus Dia II, Aura, Clara, Wave, or Spirit, Audicus aims to provide a symphony of sound that enhances your daily life.