Should you buy AbsMaster Pro (Abs and Core Trainer) to do workouts at home? Is AbsMaster Pro worth the money?
If you have watched the advertisements of AbsMaster Pro, you may want to get one to train your body at home.
In the past few weeks, I have done thorough research on AbsMaster Pro. I can tell you more about it so that you know if it is suitable for you.
At the end of this article, I'll also tell you where to get the best price for AbsMaster Pro.
Below is what I'll cover in this review of AbsMaster Pro.
What is AbsMaster Pro?
AbsMaster Pro aims to make your home workout easier. It is an abs and core trainer to help tone your abs, legs, arms, glutes.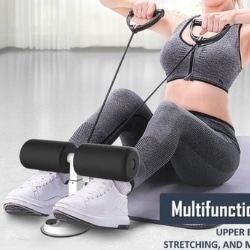 It's great equipment to help you train your body, especially abs more effectively. Because it can help correct your forms. Many people have incorrect forms so they always grudge why they don't see results after doing thousands of sit-ups.
Therefore, AbsMaster Pro seems to be a great solution to this.
Why Do You Need AbsMaster Pro?
If you don't have time to go to the gym or cannot go to the gym because of health issues, you may do exercise at home.
Training your abs is one of the best ways to burn fats, tone your body and improve your flexibility.
With the help of AbsMaster Pro, you can do a wide variety of exercises to train your entire body, including your abs, core, upper body, legs etc. It makes your home workout easier and more effective.
Most importantly, AbsMaster Pro can help you do exercises in the correct form. Many people do exercises like sit-ups in an incorrect form. As a result, they have to put in much more effort with poor results.
Therefore, it's crucial to do sit-ups or other kinds of training in a proper form in order to get better and faster results. It can also prevent injuries caused by incorrect forms.
How Does AbsMaster Pro Work?
AbsMaster Pro is easy to use. You can set it up in seconds by following the user manual.
Here are the steps for using AbsMaster Pro:
Step 1: Make sure the floor is clean. If your floor is wooden or rough, you can use the removable floor sticker included for proper suction.

Step 2: Place AbsMaster Pro on the floor. Press it down firmly and push the level down.

Step 3: adjust the height of AbsMaster Pro to the level you like



What are the Features and Benefits of AbsMaster Pro?
Durable and strong for intensive use

Made of strong but lightweight material

Powerful suction system

Can adjust the height according to your needs

Made of ultra-soft foam for comfort

Lightweight and portable

Easy to set up in seconds

Multifunctional usage: not just for training abs but also arms, legs and glutes

Can ensure proper form of doing exercises
Where to get the best price for AbsMaster Pro?
AbsMaster Pro is a great product for training abs at home.
If you'd like to get the best price for AbsMaster Pro, you might go to the official store.
It is now selling AbsMaster Pro at a fraction of the original price. But it is a limited time offer and the price might go up very soon.
That's why I ended up buying AbsMaster Pro from there and I still don't regret it because of the great customer service and fast delivery!
You might consider checking it out so that you won't regret it later.