A good night's sleep is essential for our well-being, and in pursuit of that elusive slumber, we often stumble upon innovative sleep products. One such product that has captured the attention of many is the Nuzzle Pillow. If you're wondering whether this pillow is the real deal or just another gimmick, you've come to the right place. In this review, we'll delve into the world of Nuzzle Pillow, exploring how it works, its benefits, drawbacks, and whether it's truly worth your investment.
What is Nuzzle Pillow?
The Nuzzle Pillow isn't your average pillow. It claims to be inspired by NASA technology, designed to provide exceptional support and comfort throughout the night. The heart of the Nuzzle Pillow's magic lies in its thousands of nano-coil fibers, which are said to work in harmony to cradle your head and neck, mimicking the sensation of weightlessness even in the confines of your bed.
Learn more: best pillows for neck pain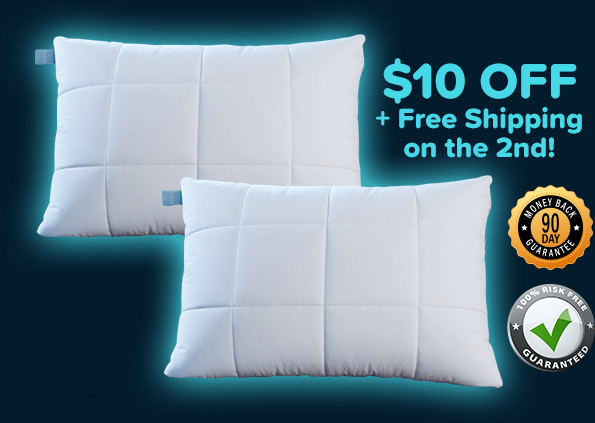 How Does Nuzzle Pillow Work?
At its core, the Nuzzle Pillow's unique selling point is its utilization of nano-coil fibers. These microscopic fibers are engineered to combat gravity's pull, adjusting themselves to the contours of your head and neck. This tailored support is aimed at maintaining proper alignment of the spine, a crucial aspect of a restful sleep. Additionally, the pillow employs phase-change fabric, similar to materials used in NASA's space suits. This technology automatically regulates temperature, promising to keep you cool and comfortable throughout the night.
How to Use Nuzzle Pillow
Using the Nuzzle Pillow is straightforward. Simply place the pillow on your bed, and lay your head upon it. It's recommended to adjust the inner layers according to your preferred sleeping style—whether you're a back, stomach, or side sleeper. The thin layer is ideal for stomach sleepers, while the medium layer is tailored for back and side sleepers. Finding the right combination of layers might take a bit of trial and error, but it's an essential step to unlocking the Nuzzle Pillow's full potential.
Does Nuzzle Pillow Work?
The big question—does the Nuzzle Pillow actually deliver on its promises? Based on my personal experience, the answer is a resounding yes. From the very first night, I could feel the difference. The support it offered to my neck and head was remarkable. Waking up without the usual stiffness was a refreshing change. Whether I was on my stomach, back, or side, the Nuzzle Pillow adapted to my position and provided the necessary support.
What Customers Are Saying
While my experience was positive, it's always valuable to consider the experiences of others. Many customers have echoed my sentiments, praising the Nuzzle Pillow for its comfort and support. However, there have been a few who found it challenging to get used to the different layers and the adjustment period. It's important to note that individual preferences and sleep patterns play a role in shaping these experiences.
Pros of Nuzzle Pillow
Tailored Support: The adjustable inner layers cater to various sleeping styles, ensuring personalized comfort.

Quality Materials: The fabric feels soft and luxurious, while the nano-coil fibers and phase-change technology contribute to its uniqueness.

Temperature Regulation: The phase-change fabric aids in maintaining a cool sleep environment, which is a significant advantage for those who tend to overheat during the night.

Durability: The Nuzzle Pillow's promise of retaining its shape for a substantial duration appears to hold true, making it a durable investment.
Cons of Nuzzle Pillow
Adjustment Period: Some users might find it takes a bit of time to find the right layer combination that suits their sleep style.

Customer Service: There have been reports of delayed responses from Nuzzle Pillow's customer service team, which might be a concern for those seeking prompt assistance.
Is Nuzzle Pillow a Scam or Legit?
The Nuzzle Pillow's claims might sound too good to be true, but in my experience, it's far from a scam. The technology behind it, combined with the positive feedback from customers, lends credibility to its claims. However, as with any product, individual results can vary, and it's essential to manage your expectations accordingly.
Is Nuzzle Pillow Worth It?
The big question remains—is the Nuzzle Pillow worth your investment? Considering the comfort, support, and technology it offers, I believe it's a worthy investment for anyone who values their sleep quality. The durability and tailored support alone make it stand out from traditional pillows. However, if you're someone who requires swift customer service or prefers a more budget-friendly option, it's worth exploring alternatives.
Conclusion
In conclusion, the Nuzzle Pillow has proven itself to be more than just a marketing gimmick. Its innovative technology, customizable support, and cooling features combine to create a unique sleep experience. While there are a few drawbacks, they are outweighed by the numerous benefits the pillow provides. If you're seeking to enhance your sleep quality and don't mind a bit of trial and error during the adjustment period, the Nuzzle Pillow is certainly a worthy contender in the realm of sleep accessories. Remember, though, that individual sleep preferences vary, so while it may be a dream come true for some, it might not be a perfect fit for all.