Should you buy The Massage Guys Massage Gun? Is it worth the money? These are the questions that ran through my mind as I suffered from constant back and hand pains due to my laptop lifestyle. Seeking relief, I stumbled upon an advertisement for The Massage Guys Massage Gun. Intrigued, I decided to delve deeper into the brand and product to see if it would be a good fit for me.
In this review, I will share my personal experience with The Massage Guys Massage Gun and also provide you with an alternative option that I found on Amazon.
Relief for Stiff Muscles and Soreness
According to The Massage Guys, their massage gun is designed to relieve muscle stiffness and soreness, while promoting blood and lymph circulation. This sounded promising to me, especially as someone who frequently experiences muscle tension and discomfort. The idea of having a portable device that could provide relief whenever I needed it was highly appealing.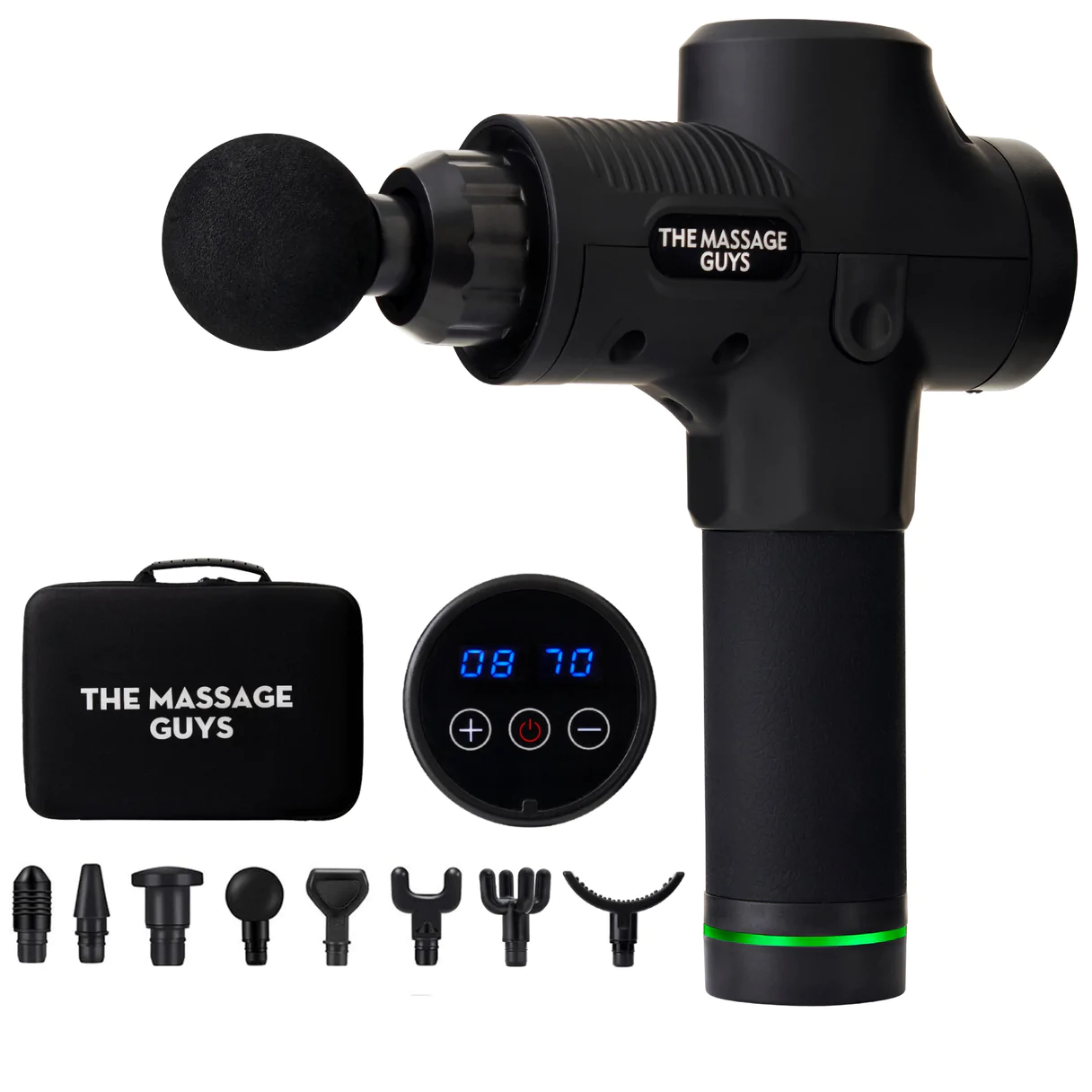 Quiet and Powerful
One of the standout features of The Massage Guys Massage Gun is its quiet operation. Producing less than 40db of sound, it is among the quietest massage guns on the market. This is achieved through their next-generation brushless motor technology, which allows the gun to be quieter and lighter while still delivering an impressive 3200 pulses per minute.
The low noise level was particularly important to me, as I often use the massage gun in public places or around others, and I didn't want to disturb anyone.
Portable and Convenient
The Massage Guys Massage Gun comes with a premium carry case, enabling you to take it with you wherever you go. The lightweight and unobtrusive design make it easy to bring along on trips or to the office.
In fact, The Massage Guys proudly states that their massage guns are office-friendly, thanks to their sound insulation technology with acoustic absorption material. This feature allows you to relieve muscle tension and increase productivity without creating a disturbance in the workplace.
Impressive Features and Benefits
The Massage Guys Massage Gun boasts several features and benefits that are worth mentioning. It offers high-frequency vibration stimulation, which can help reduce adhesions and nodules between muscles and fascia, ultimately preventing sports injuries.
The gun also provides trigger-point massage therapy, which is effective in relieving different muscle problems. With 30 speed levels, it caters to different levels of myofascial massage and allows you to customize the intensity to your preference.
Additionally, it promotes blood circulation, stimulates muscle growth, and expedites muscle recovery. The Massage Guys Massage Gun is designed with six professional massage heads that target different parts of the body, providing versatility and adaptability. Lastly, the ergonomic lightweight design ensures comfort during use.
The Best Alternative: Amazon
If you're considering purchasing The Massage Guys Massage Gun but are unsure about its price or availability, I recommend checking out the alternative option I found on Amazon. I discovered a very similar product that offers the same, if not better, results at a more reasonable price.
Final Thoughts
In conclusion, The Massage Guys Massage Gun offers an appealing solution for those seeking relief from muscle stiffness and soreness. Its quiet operation, portability, and impressive features make it a viable option.
However, if you're looking for an alternative that provides comparable results at a more reasonable price, I highly recommend exploring the options available on Amazon.