Have you been eyeing a steel tongue drum lately? If you're wondering if Panda Drum is worth the investment, look no further. I've got you covered!
Panda Drum seems to be a popular choice for those looking for an easy-to-play instrument that produces beautiful sounds. Unlike hang drums, steel tongue drums like Panda Drum are more affordable and accessible to everyone, regardless of musical experience.
As someone who loves exploring different instruments, I'm excited to share my thoughts on Panda Drum with you. And just so you know, I'm not affiliated with the brand, so you can expect an honest review. Without further ado, let's get started.
What is Panda Drum?
Panda Drum is an excellent way to unwind and relax as it is a unique type of petal drum that produces both melodious and meditative sounds, enabling you to concentrate on yourself, unleash your creativity, and delve into your inner realm.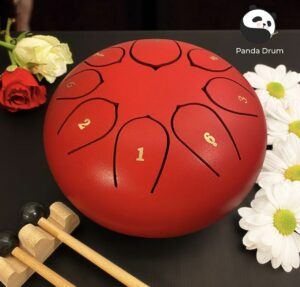 Crafted by hand using top-quality carbon steel, each Panda Drum is professionally tuned to deliver an amazing sound. Whether you're a beginner or an experienced musician, you don't need any special skills or training to start playing it. Since every drum uses the C major scale, you can start producing beautiful music with the included mallets or even your own hands.'
Tips for Buying a Steel Tongue Drum
If you're looking to buy a steel tongue drum, there are a few things you should keep in mind. Here are some tips to help you choose the right one:
Material: The quality of the steel used to make the drum is crucial. You don't want a drum made from just any old steel. Look for high-quality steel that is specifically designed for making musical instruments.

Shell Thickness: A good steel drum should have a shell thickness of no more than 1.5 – 2 mm. This thickness allows for a sustained melodic sound and helps to avoid a "tanky sound" effect.

Tuning: The tuning of the drum is also important. Each of the metal tongues should produce between 3 to 7 overtones to enrich the sound.
By keeping these factors in mind, you can ensure that you buy a high-quality steel tongue drum that will produce beautiful, melodic sounds.
Panda Drum Specifications
This steel drum boasts 8 tongues in C major pentatonic scale, which means you can create a variety of harmonious and melodious tunes with it.
Not only does it sound great, but it also looks stunning. The Panda Drum is made of high-quality stainless steel with a dull polish finish, which gives it a sleek and modern appearance.
When you purchase a Panda Drum, you'll get everything you need to start playing right away. The package includes the steel drum, mallets, a music book in English, a bag for storage and transportation, notes stickers, and finger pads for added comfort during long playing sessions.
But the Panda Drum is more than just a musical instrument. It's also a versatile tool that can be used in a variety of fields, including music education, mind healing, yoga meditation, and more. So, whether you're a seasoned musician or a beginner, the Panda Drum is a great addition to your collection.
Why You Need Panda Drum: A Tool for Harmony and Inner Exploration
Panda Drum is a traditional musical instrument that offers a unique way to experience music and explore your inner world.
The Panda Drum produces a harmonious sound that can inspire and provide a fresh perspective on problem-solving. Plus, it contributes to right-brain development, which enhances creativity. No wonder it's widely used by spiritual practitioners and teachers for meditation, yoga, and spiritual healing.
Using the Panda Drum regularly can help you experience a beautiful daily resonance. The sound and vibrations it creates promote a relaxed state, making it perfect for creative thinking and mindfulness. So, if you're looking for a tool to enhance your daily routine and improve your mental state, consider adding the Panda Drum to your collection.
Who is Panda Drum for?
Looking for a way to unwind after a long day? Want to improve your sense of rhythm or learn to play a new instrument? Or just looking for a unique addition to your daily routine? Well, look no further than the Panda Drum!
The Panda Drum is a type of steel tongue drum that anyone can enjoy. Its magical sound can help you relax and achieve a peaceful state of mind. And whether you're a seasoned musician or a complete beginner, the Panda Drum is the perfect instrument for developing your sense of rhythm and training your ear.
Benefits of Panda Drum
Panda Drum is a one-of-a-kind musical instrument that offers a unique and soothing sound experience. With its compact size and high-quality construction, Panda Drum is the perfect companion for yoga classes, meditation, or simply relaxing at home. Here are some of the features and benefits that make Panda Drum stand out:
Compact and Stylish Design
Panda Drum measures only 5.5 inches in diameter, making it a compact and portable musical instrument. Its stylish design is eye-catching and adds an aesthetic touch to any room. Plus, with its premium carrying bag, you can easily take your Panda Drum with you wherever you go.
Handcrafted to Perfection
Every Panda Drum is crafted by the finest craftsmen from high-quality steel. Each drum is carefully hand-tuned to produce a harmonious and relaxing sound that is pleasant to the ears. The attention to detail and quality of craftsmanship ensure that every Panda Drum is a unique piece of art.
Best Gift Idea
Panda Drum makes for a perfect gift idea for anyone who loves music or wants to experience a unique sound. It can be a great present for children, friends, or that special someone in your life. With its compact size and stylish design, Panda Drum is a gift that will be treasured for years to come.
Cons of Panda Drum
Limited Sound Range
Since Panda Drum is a handcrafted musical instrument with a specific tuning, it may have a limited sound range compared to other instruments. This means that it may not be suitable for certain musical styles or genres.
Fragility
Although the high-quality steel used in the construction of Panda Drum is durable, it could be susceptible to damage if mishandled or dropped. The compact size of the instrument could also make it difficult to handle for those with larger hands.
Cost
As a handcrafted musical instrument, Panda Drum may be relatively expensive compared to other musical instruments. This could make it less accessible to those who are on a tight budget or looking for a more affordable option.
Where to Get the Best Price for Panda Drum?
If you're looking for a tool to add some color to your musical expression and relax your mind, Panda Drum might be just what you need.
Luckily, there are ways to save money on this popular item. One option is to check out the official retail store, where the Panda Drum is currently being sold at a discount.
However, it's important to act fast, as the price may increase soon. Don't miss out on this opportunity to purchase the Panda Drum at a great price. Head to the official store today and see for yourself!