Is Panda Drum a trustworthy brand? Should you buy their products?
Whether you're musically experienced, a steel tongue drum is one of the instruments that is worth your try.
Beautifully sounding but easy to play, it seems Panda Drum fits everybody. It doesn't require years of training or thousands of dollars as in the case of hang drums.
Since I'm interested in instruments, I'd like to write a review to help you make a more informed decision.
You can rest assured that what I tell you is genuine because I'm not affiliated with Panda Drum.
At the end of this article, I'll also let you know where to get the best price for Panda Drum.  
What is Panda Drum?
Panda Drum is a melodic meditative petal drum that helps you have rest, focus on yourself, fantasize and navigate your inner world.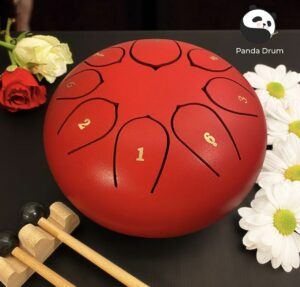 Handcrafted from premium quality carbon steel, it's professionally tuned to deliver an excellent sound. 
As each drum uses the C major scale, there are no particular skills you need or years of training to master the skills of playing the Panda Drum.
Anyone, from children to experienced musicians can use the mallets included or their own hands to start producing sweet-sounding music.
Panda Drum Specifications
A Resonant Sound

8 Tongues in C major Pentatonic Scale

Made of Stainless Steel Dull Polish

Package includes steel drum, mallets, music book in English, bag, notes sticker, finger pads

Applicable to a variety of fields, including music education, mind healing, yoga meditation and so on.
What to look for when buying a steel tongue drum?
When choosing a steel tongue drum, pay attention to the material it is made of, the shell thickness and the tuning. 
Unlike the tank drums that were originally made of a propane tank, a good steel drum must be made with special high-quality steel. 
It is suggested that the steel shell shouldn't be thicker than 1.5 – 2 mm because that is what creates the melodic sustainable sound and helps to avoid a "tanky sound" effect.
As for the metal tongues, each one of them should produce from 3 to 7 overtones that enrich the sound.
Who is Panda Drum for?
Panda Drum is suitable for anyone who wants to play steel tongue drum. 
Whether you want to have some relaxation after a hard-working day, or develop a good sense of rhythm and educate the ear, or want to learn to play a musical instrument, or bring something special into your daily routine, Panda Drum is here for you.
Everyone can put a Panda Drum to good use and develop a peaceful mind due to its magical sound. 
Why do you need Panda Drum?
Panda Drum is a traditional instrument of harmony which helps you not only hear music in a unique way but also explore your inner world.
When playing the Panda Drum, you can feel its harmonious sound and get some inspiration or a fresh perspective on problem-solving. It contributes to right-brain development and hence creativity.
That's why Panda Drum is widely used for mediation, yoga and spiritual healing by spiritual practitioners and teachers.
With Panda Drum, you can experience a beautiful daily resonance because the sound and vibrations promote a relaxed state perfect for creative thinking and mindfulness.
What are the features and benefits of Panda Drum?
Below are some of the key features and benefits of Panda Drum:
Stylish & Compact –

Panda Drum is compact and made of high quality. Measuring 5.5 inches in diameter, it's lightweight and takes up minimal space. With a premium stylish carrying bag, you can easily bring your Panda Drum to yoga classes, retreats, travel or wherever you go. 

Handcrafted to Perfection –

Panda

 Drums are handcrafted from high-quality steel by the finest craftsmen. Each drum is perfectly hand-tuned to perfection, producing only the harmonious and relaxing sound which is pleasant to the ears. 

Best Gift Idea –

Panda

 Drum can be used as a nice and special gift for children, friends, music lovers or your special ones!
Where to get the best price for Panda Drum?
Panda Drum is a great tool for you to colour your musical expression and relax your mind.
If you'd like to get the best price for Panda Drum, you might go to the official store.

It is now selling Panda Drum at a discount but I'm not sure if the price might go up very soon.
You might consider checking it out so that you won't regret it later.