Should you buy Flow Recovery Massage Gun? Is it worth the money? If you have stiff muscles and feel the need to get muscle recovery, you may want to consider the Flow Recovery Massage Gun. As someone who leads a laptop lifestyle, I have suffered from constant back and hand pains.
Therefore, when I saw the advertisement for the Flow Recovery Massage Gun, I immediately spent some time researching the brand to see if it would be a good fit for me.
In this Flow Recovery Massage Gun review, I'm going to tell you everything you need to know about it, including its features, benefits, and where to find the best alternative.
Relieve Pain with Combined Heat and Percussion Massage Therapy
The Flow Recovery Massage Gun offers a unique combination of heat therapy and percussion massage, providing a comprehensive solution for various ailments and muscle recovery. The heat plate included in the gun is designed to relieve headaches, migraines, back pain, and menstrual cramps, as recommended by health professionals.
With multiple levels of heat, the Nano is suitable for all types of skin sensitivity. The percussion therapy aspect of the gun offers relief from ailments, aches, and pains with its scientifically-proven muscle treatment.
The Nano provides three calibrated modes: relax, recharge, and refresh, catering to different needs. Additionally, it comes with four specially selected flowhead™ attachments, allowing you to target specific areas of your body.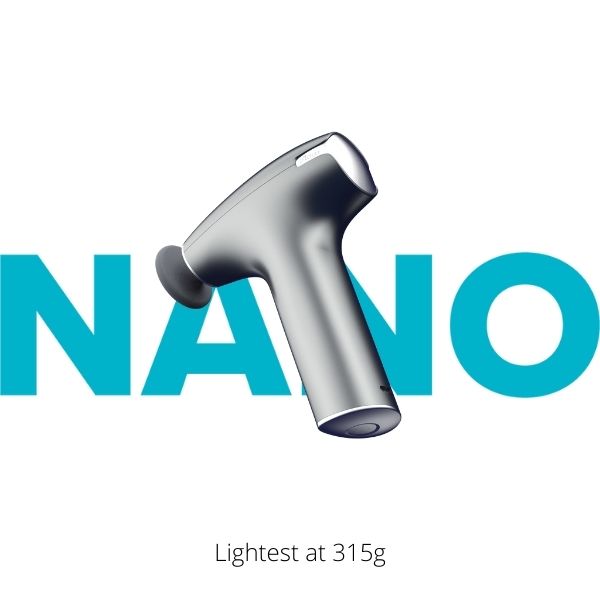 Portable and Convenient for On-the-Go Use
One of the standout features of the Flow Recovery Massage Gun is its portability. The gun is light enough to fit in your bag, and it even comes with its own carry sleeve. Whether you're traveling or heading to the office, you can easily take it with you.
Furthermore, the included USB-C cable provides up to two weeks of use with a single fast charge, ensuring that you won't be left without the massage gun when you need it most. The ultra-low-noise motor means you won't disturb anyone when you use the Nano, making it perfect for use in the office or on the go.
Simple Operation and Targeted Relief
Using the Flow Recovery Massage Gun is straightforward. With just a long press of the power button, you can activate the massage function.
Double-clicking the power button activates the heat therapy feature. It's important to ensure that the device is fully charged for optimal performance. When active, you can cycle through the three modes (relax, refresh, or recharge) by pressing the button.
Simply apply the Nano to the affected area, being cautious not to use it around sensitive areas. The gun's instant soothing heat, therapeutic massage, and targeted relief make it suitable for a range of conditions.
Multiple Applications for Various Ailments
The Flow Recovery Massage Gun is designed to provide relief for a wide range of conditions and ailments. Whether you suffer from headaches, migraines, back pain, menstrual cramps, cold and flu symptoms, rheumatic or joint pain, muscle soreness, chronic pain, strains, or carpal tunnel syndrome, this device offers potential relief.
Its versatile heat and massage functions can alleviate pain, reduce muscle tension, promote blood flow, and improve flexibility.
Furthermore, the Nano device can even be used for mental health purposes, providing a gentle heat and relaxing massage that can boost your overall well-being and lift your mood.
Great Features and Benefits
The Flow Recovery Massage Gun boasts numerous features and benefits that make it a compelling option for muscle recovery and pain relief. Its high-frequency vibration stimulation helps reduce adhesions and nodules between muscles and fascia, preventing sports injuries. The gun also offers trigger-point massage therapy, which can relieve different muscle problems.
With 30 speed levels, you can adjust the intensity to meet your needs. The device stimulates muscle growth, promotes blood circulation, and helps expedite muscle recovery.
Additionally, it is super quiet and features good heat dissipation, ensuring a comfortable and enjoyable experience.
The ergonomic lightweight design adds to its convenience and usability. The inclusion of six professional massage heads targeting different parts of the body allows for a customizable and targeted massage experience.
Consider the Best Alternative on Amazon
If you're interested in purchasing the Flow Recovery Massage Gun, I recommend checking out the alternative available on Amazon. I recently discovered a very similar product on the platform that can produce the same, if not better, results.
Conclusion
In conclusion, the Flow Recovery Massage Gun offers a powerful solution for muscle recovery and pain relief. Its combination of heat therapy and percussion massage provides targeted relief for various ailments and conditions. The portable design, long-lasting battery, and discreet operation make it convenient for use on the go.
With its multitude of features and benefits, the Flow Recovery Massage Gun is a compelling option worth considering. However, exploring the best alternative on Amazon can offer similar results at a more affordable price. Take control of your muscle recovery and consider investing in a massage gun today.