Living a laptop lifestyle often takes a toll on our bodies, causing stiffness and discomfort in muscles. As someone who has experienced constant back and hand pains, I was on the lookout for a solution that could provide muscle recovery and relaxation. That's when I came across the FitGun Pro Massage Gun.
Intrigued by its promises, I embarked on a research journey to determine if this product was the right fit for me. In this FitGun Pro Massage Gun review, I'll share my findings and personal experience with you, along with an alternative option that may offer similar benefits.
FitGun Pro Massage Gun: A Revolutionary Tool for Muscle Relief
One of the key selling points of the FitGun Pro Massage Gun is its ability to loosen tight spots and alleviate muscle soreness. This device is supported by extensive scientific research, which highlights it as an optimal tool for workout recovery and muscle relief.
By utilizing the force of percussive therapy, the FitGun Pro Massage Gun effectively manipulates the soft tissues of your body, providing a deep and targeted massage experience. This means you can enjoy the benefits of traditional massage therapy from the comfort of your own home, without the need for expensive and time-consuming appointments.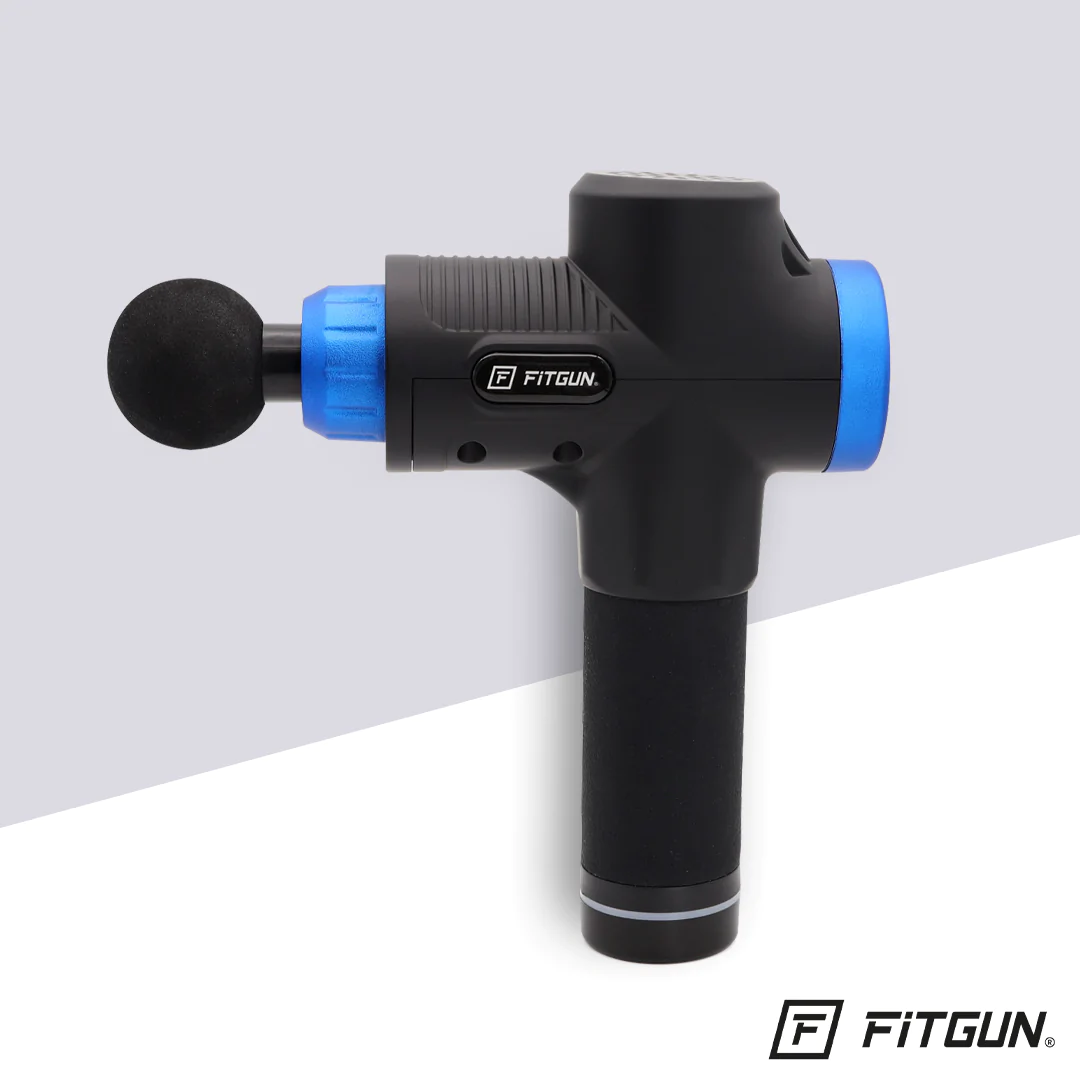 Suitable for All: From Athletes to Chronic Pain Sufferers
FitGun Pro Massage Gun has gained popularity among a wide range of users, from professional athletes to recreational gym-goers, and even individuals with chronic pain. Its versatility and effectiveness make it a go-to choice for many people.
Whether you're seeking faster muscle regeneration, relief from muscle adhesions, or simply a relaxing massage, FitGun Pro Massage Gun is designed to cater to your needs.
Features and Benefits That Stand Out
The FitGun Pro Massage Gun offers a multitude of features and benefits that make it a compelling choice for anyone looking to enhance their muscle recovery and overall well-being. Let's take a closer look at some of its standout features:
Faster Regeneration

: The deep muscle relaxation achieved through the FitGun Pro Massage Gun helps restore mobility and aids in the removal of adhesions in muscle fibers and fascia.

Six Interchangeable Massage Heads

: The FitGun Pro comes equipped with six different massage heads, allowing you to customize your massage experience for different muscle groups. You can adjust the vibration speed individually, ranging from 1800 to 3200 revolutions per minute, ensuring you find the perfect level of intensity.

FitGun® Heat Attachment

: Taking your recovery to the next level, the FitGun® Heat Attachment provides warmth during your massage session. Studies have shown that heat treatments are 47% more effective than regular massage treatments, promoting better blood circulation and deeper relaxation. Additionally, applying heat directly to tense muscles has been proven to increase blood flow up to two centimeters deep and promote better sleep.

FitGun® Cold Attachment

: Designed specifically for muscle and joint pain, the FitGun® Cold Attachment offers a cooling effect that helps alleviate nerve conduction velocity and reduce pain sensations in muscles and joints. It also acts as an anti-inflammatory tool and efficiently targets muscle cramps.

Professional Soreness Relief

: The high-frequency vibration stimulation of the FitGun Pro Massage Gun reduces adhesions and nodules between muscles and fascia, preventing sports injuries and promoting overall muscle health.

Trigger-Point Massage Therapy

: With the FitGun Pro Massage Gun, you can enjoy targeted trigger-point massage therapy, which effectively relieves different muscle problems and promotes relaxation.

Safe and Low Noise Operation

: The FitGun Pro Massage Gun operates at a safe noise level, ensuring a comfortable experience without disturbing your surroundings.

Stimulates Muscle Growth and Promotes Blood Circulation

: By enhancing blood flow and providing deep muscle stimulation, the FitGun Pro Massage Gun aids in muscle growth and accelerates recovery.

30 Speed Levels

: The FitGun Pro Massage Gun offers a wide range of speed levels, allowing you to customize your myofascial massage experience based on your preferences and needs.

Super Quiet and Good Heat Dissipation

: The FitGun Pro Massage Gun is designed to be super quiet during operation, ensuring a peaceful and enjoyable massage session. It also features excellent heat dissipation properties, preventing overheating and ensuring the longevity of the device.
An Affordable Alternative on Amazon
While the FitGun Pro Massage Gun offers impressive features and benefits, it's essential to explore alternatives that may provide similar results at a more reasonable price.
After conducting my own research, I stumbled upon a highly comparable product available on Amazon. This alternative option not only delivers similar performance but is also more budget-friendly.
In Conclusion
If you're seeking a solution to relieve muscle soreness, enhance recovery, and enjoy the benefits of deep tissue massage from the comfort of your home, the FitGun Pro Massage Gun is a worthy contender. Backed by scientific research, it offers a range of features and benefits that cater to a variety of users.
However, if you're looking for a more affordable alternative, I recommend checking out the alternative option available on Amazon. With its comparable performance and budget-friendly price point, it may provide the muscle relief and recovery you're looking for. Ultimately, the choice is yours, and I hope this FitGun Pro Massage Gun review has helped you make an informed decision.