So, have you heard of facial wands? They're these nifty tools that estheticians use to work their magic on your skin – think reduced wrinkles, banished acne, and even hair regrowth!
And if you're looking to get rid of hyperpigmentation or scars, the best high-frequency wand might just be your answer. Plus, it can also help with those pesky under-eye circles.
Now, I'd always thought that high-frequency wands were only available in fancy salons. But turns out, there are some affordable options you can use right at home! That's where Eternal Clear comes in.
I was super intrigued by this brand, but during my research, I stumbled upon another brand that offered similar functions at an even lower price point. I'll spill the tea on that later in this review.
What is Eternal Clear High-Frequency Wand?
Affordable and portable, this facial wand is perfect for those who want professional-level skin care on a budget. It works wonders on acne and wrinkles, leaving you with healthy and radiant skin that you can't help but show off.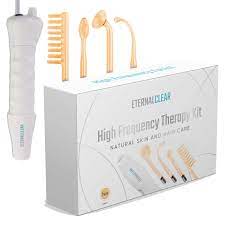 The wand comes with four different attachments that cater to all areas of the face and body. Each electrode has a specific use, with the mushroom electrode working all over the body, the tongue electrode for sensitive areas, the bent electrode for zit targeting, and the comb electrode for stimulating the scalp.
There are four treatment options to choose from, including indirect high-frequency, high-frequency therapy, the 'spark' method, and hair-care therapy. Plus, you can use your favourite beauty products with the wand and let them absorb into your skin for maximum benefits.
Using the Eternal Clear High-Frequency Wand is super easy! Just attach the right electrode and place the wand on the desired area for 20-30 seconds. After just a few uses, you'll start to notice a reduction in acne and wrinkles.
While there may be more powerful technology out there, the portability and versatility of this wand make it an attractive option. And if you're looking for an even better deal, check out HeyClearSkin High-Frequency Therapy Wand, which offers all the functions of Eternal Clear at an even lower price.
What does it feel like?
When you first try a high-frequency wand, you may feel slight vibrations or popping sensations on your face, depending on the frequency and where you're using it. But don't worry, it's just the neon or argon gas passing through the glass electrodes and delivering low currents to your skin.
You might also notice a distinct smell, but it's nothing to be concerned about. It's just a characteristic of the gas being used. Overall, using a high-frequency wand is pretty painless, and most people find it quite relaxing.
Pros
Say Goodbye to Ageing Skin – The ATP synthesizing power of this wand is the ultimate secret weapon in the fight against ageing. By amplifying cell turnover, it can help reverse the signs of ageing and give you firmer, younger-looking skin.

Banish Acne for Good – If you're prone to acne, you'll love the acne treatment capabilities of this wand. It's great for getting rid of acne-causing inflammation and eliminating acne scarring.

Get Your Best Skin Yet – With specialized therapy for acne, wrinkles, and skin rejuvenation, Eternal Clear High-Frequency Wand offers a complete solution for all your skin care needs. Plus, regular use can lead to an overall dramatic improvement in your skin profile.

Smooth Out Wrinkles and Fine Lines – Want to reduce wrinkles and fine lines without any pain? This wand is for you. Its 10 watts of power at high frequency 50-60Hz waves stimulate circulation and collagen production, plumping up skin cells to fill in voids that cause wrinkles and fine lines.
Cons
Not Suitable for All Skin Types – While high-frequency treatments are generally safe for most people, they may not be suitable for those with certain skin conditions or who are pregnant. It's always best to check with your doctor or dermatologist before trying out a new skin care treatment.

Requires Consistent Use for Results – While the Eternal Clear High-Frequency Wand can be effective at reducing acne, wrinkles, and other signs of aging, it requires consistent use over time to see results. If you're not willing to commit to using the wand regularly, you may not get the results you're hoping for.

Can Be Pricey – While the Eternal Clear High-Frequency Wand is more affordable than professional treatments, it can still be a significant investment for some people. Additionally, there are other high-frequency wands on the market that offer similar benefits at lower price points, so it's worth doing some research before making a purchase.
Where to get the best alternative for Eternal Clear?
Eternal Clear High-Frequency Wand can reduce wrinkles and fine lines, eliminate skin irritation, and improve the overall skin texture for younger-looking and smooth skin.
However, Eternal Clear is overpriced and it doesn't provide free shipping.
If you'd like to get the best alternative instead, you might go to the official retail store.
Since HeyClearSkin™ High-Frequency Therapy Wand has all the functions of Eternal Clear with free shipping, I have decided to buy it instead, which turns out to be a great decision!
It has drastically decreased the lifespan of my blemishes and helps them heal faster.
You might spend a few seconds checking it out so that you won't regret it later.