If you're on the hunt for a solution to get rid of pesky skin lesions like skin tags, warts, and fibromas, you might be wondering if Skin Delux Plasma Pen is the answer you've been looking for. As someone who's been trying to tackle pigmentation issues, such as age spots, I've done some research on the Skin Delux brand and I'm here to share my findings with you.
Let's get right into it! In this review, I'll be covering all the key features of the Skin Delux Plasma Pen, and by the end of it, you'll have a better idea of whether or not it's worth the investment.
Plus, I'll even let you in on where you can score the best deal for the Skin Delux Plasma Pen.
About Skin Delux
Skin Delux has been revolutionizing the way women shop for skincare products since 2019. They believe that quality skincare shouldn't have to break the bank, which is why they have developed affordable skincare devices that actually work.
Their growing community of women worldwide choose Skin Delux as their go-to brand for quality skincare devices that they can trust. With Skin Delux, you can always count on getting the best prices on high-quality skincare devices.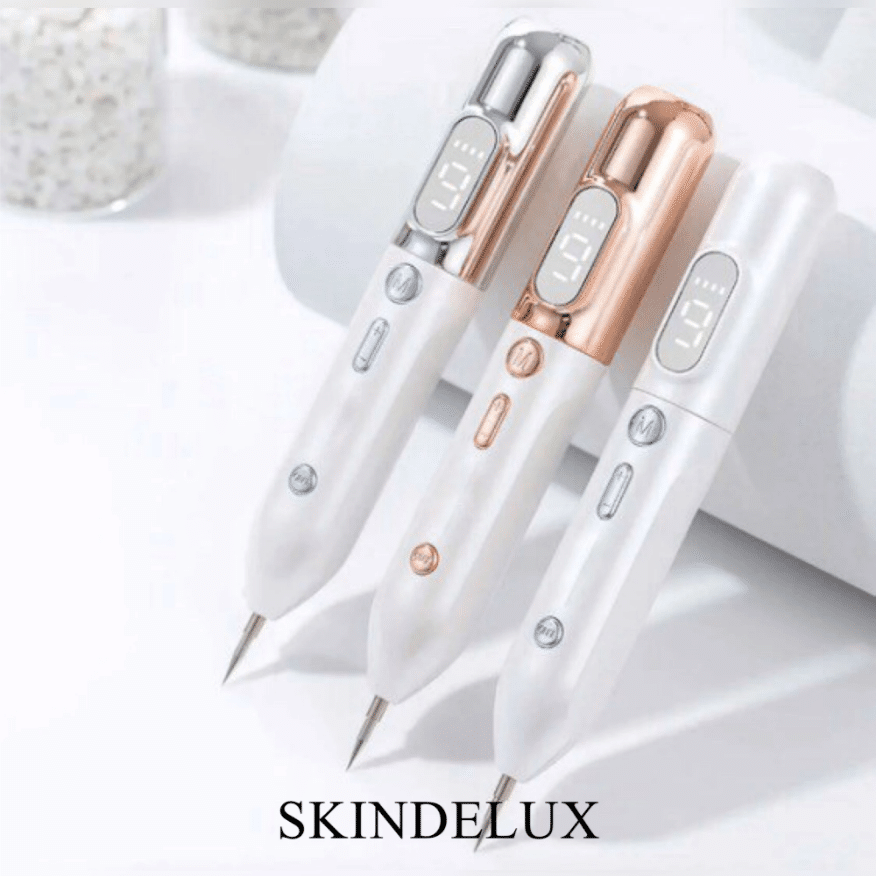 What is Skin Delux Plasma Pen All About?
Skin Delux Plasma Pen is a super cool handheld device that uses plasma technology to rejuvenate your skin without surgery! The best part? It only takes about an hour from start to finish!
This innovative pen uses ARC Technology, which sets it apart from other plasma energy treatments. By reacting with the air between the skin and the device, the plasma energy creates a targeted outcome that helps improve skin laxity, texture, and the appearance of fine lines. And the best part? There's minimal downtime and maximum results!
So, if you're looking to combat the visible signs of facial aging and achieve youthful-looking skin, the Skin Delux Plasma Pen might just be what you need. Give it a try and let us know how it works for you!
How Does It Work?
If you're tired of dealing with skin issues, the Skin Delux Plasma Pen could be just what you need! This amazing tool can help you treat a variety of unwanted skin conditions without the need for surgery or harsh chemicals.
One of the great things about the Skin Delux Plasma Pen is that it can help tighten the skin around your lower and upper eyelids, without the need for blepharoplasty surgery. It can also effectively treat skin lesions like skin tags, moles, warts, fibromas, xanthelasmas, papillomas, and seborrheic keratoses.
The pen is also perfect for getting rid of wrinkles, including crow's feet, frown lines, necklines, and smoker's lines. And if you're struggling with pigmentation issues, the pen can help fade age spots on your hands and face, as well as melasmas, sunspots, freckles, and chloasmas.
That's not all – the Skin Delux Plasma Pen is also great for treating marks and scars, such as acne scars, stretch marks, post-surgery scars, and even tattoos. With all of these amazing benefits, it's no wonder the Skin Delux Plasma Pen is becoming such a popular skin treatment option.
Benefits of Skin Delux Plasma Pen
Proven Results
First off, the Skin Delux Plasma Pen has been tried and tested by thousands of users and has shown proven results. So, you can trust that this product really works.
Precision Technology
What's more, the precision technology in the pen targets skin defects right at their root, giving you more effective results. Plus, it's affordable compared to professional-grade treatments you would receive at a spa or clinic.
Safe and Natural
The Skin Delux Plasma Pen is safe to use at home and there's no need to worry about fillers or the risk of imbalance from over-injections. You'll get natural-looking results without any pain during therapy.
No More Blemishes
Say goodbye to blemishes and fine lines with this amazing product. There are no other minimally-invasive treatments on the market that can safely target the skin around the eyes and mouth with the efficacy needed to produce such dramatic results.
Qualified Providers
You can rest easy knowing that each provider of the Skin Delux Plasma Pen has been trained by Plasma Concepts and is qualified to perform the treatment. Although results are often noticeable once the initial healing process ends, the full results will continue to develop over several weeks to months after the first treatment.
Is It Safe to Use?
This treatment is not only effective but also very safe when used properly.
During the process, you may feel a very mild pain, which is totally acceptable. However, if the pigment distribution is large, you may have a more intense feeling. But don't worry, the speed is very fast and it should end in just 5-10 minutes.
The best thing about Skin Delux Plasma Pen is that it was specifically designed to leave no scars or scratches after use. However, after the treatment, it's important to avoid sun exposure and tanning beds to the treated area. This will help to ensure that your skin heals properly.
Once the scabbing process is complete, you should always apply broad-spectrum SPF 50 or higher to the area for a minimum of 3 months after your last treatment. This will help to protect your healing skin from any damage caused by UV rays, which can lead to hyperpigmentation and/or premature aging.
Where to Get the Best Price for Skin Delux Plasma Pen?
Skin Delux Plasma Pen is a fantastic tool that can help you achieve the smooth and perfect skin you desire.
If you're on the hunt for the best deal on the Skin Delux Plasma Pen, look no further than the official retail store. They're currently offering it at a fraction of the original price, but I can't guarantee that the price won't go up soon.
The customer service was top-notch, and my order arrived incredibly quickly.
So if you're thinking about giving the Skin Delux Plasma Pen a try, I highly recommend checking out the official retail store. Don't wait too long or you might regret missing out on this amazing product!