If you're tired of snoring disrupting your sleep and causing inconvenience for your partner, you've probably come across Good Morning Snore Solution.
This Good Morning Snore Solution review aims to provide you with a comprehensive overview of the product, its effectiveness, and whether it's worth your investment. After conducting thorough research and examining customer testimonials, we'll help you make an informed decision.
Background and Approval
Good Morning Snore Solution is a product offered by MPowrx, a reputable health and wellness company based in Calgary, Alberta, Canada.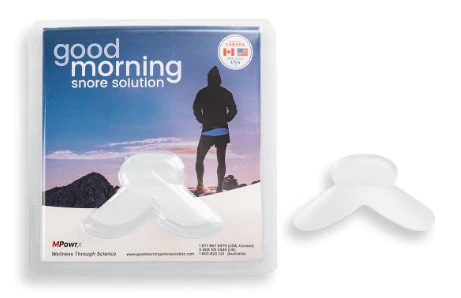 The company has gained regulatory approval in Canada, the United States, the European Union, and Australia, adhering to strict manufacturing practices. The mouthpiece is backed by a 30-day money-back guarantee, ensuring customer satisfaction.
Designed by a Sleep Researcher
The Good Morning Snore Solution mouthpiece was developed by Dr. Leslie Dort, a renowned dentist and sleep researcher based in Calgary. Dr. Dort recognized the need for a simple, effective, and comfortable solution to combat snoring.
Through her research, she discovered the tongue stabilization technique, which forms the basis of this innovative mouthpiece. The design underwent rigorous clinical trials and received validation in a peer-reviewed medical journal.
Understanding the Mouthpiece
The Good Morning Snore Solution mouthpiece is a non-custom, one-piece oral appliance designed to be comfortably retained within the mouth while sleeping. It features a flange that fits between the lips and teeth, with a bulb and aperture to hold the tongue in place.
By reducing the air volume within the bulb, a vacuum is created, helping to keep the upper airways open and reduce snoring.
FDA Approval and Safety
The Good Morning Snore Solution has obtained FDA clearance as an over-the-counter snoring aid. This clearance is only granted to products that have proven effectiveness and have undergone stringent safety testing. It's important to note that many anti-snoring devices available online lack FDA approval, making it difficult to ensure their efficacy, safety, and legality.
Quality Manufacturing and Materials
Manufactured in a world-class ISO-certified facility in the United States, the Good Morning Snore Solution mouthpiece maintains high-quality standards.
The materials used are sourced domestically, and the plastic resin employed in its construction is commonly used in oral appliances. This resin has been tested and cleared by the FDA for its intended purpose, ensuring its safety. Additionally, it is free from BPA and BHA, further enhancing its appeal.
Usage Considerations
While the Good Morning Snore Solution offers an effective solution for snorers, there are a few factors to consider. Individuals with sleep apnea, severe respiratory disorders, oral mucosal diseases, loose teeth, advanced periodontal disease, or allergies to Ethyl Vinyl Acetate should avoid using the mouthpiece.
Nasal breathing is necessary for proper functioning, so if your nasal passages are blocked due to cold or allergies, it's not recommended. It's essential to assess your medical history and consult a healthcare practitioner if you suspect sleep apnea or have relevant health concerns.
Real Customer Testimonials
To gain a better understanding of the product's effectiveness, we examined real customer testimonials from various online forums and groups.
Many customers expressed positive experiences with the Good Morning Snore Solution. Ameera noted that while it took some getting used to, it helped with her sleep and recommended it. Isabella praised the responsive customer service and found the mouthpiece much easier to tolerate than traditional mouthguards. Another satisfied customer, Becky, shared that the mouthpiece was the only thing that worked for her and appreciated the helpful team at GMSS. Candice commended the customer service for their assistance and easy return process.
Customer Support and Contact Details
Contacting Good Morning Snore Solution's customer service is straightforward. You can reach them through email at [email protected] or leave a voice message at 1-877-867-6979. Alternatively, you can use the contact form available on their website for any queries or concerns.
Conclusion
After thorough research and analyzing customer testimonials, Good Morning Snore Solution proves to be a promising solution for snorers. Its FDA approval, high-quality manufacturing, and positive customer experiences lend credibility to the product.
However, it's crucial to consider the usage considerations and consult a healthcare professional if needed. With the current promotions and exceptional customer service, now is an ideal time to try out the Good Morning Snore Solution. Don't let snoring disrupt your sleep any longer—take a step towards better rest today.